Unterwater jet massage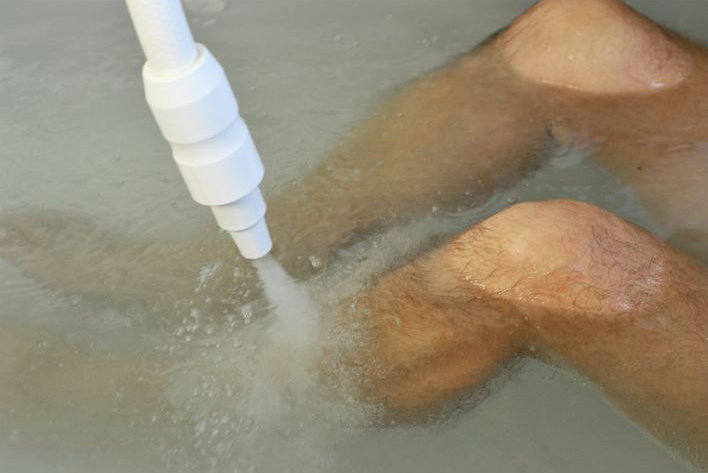 This is a hydrotherapeutic massage treatment, which uses warm water jets and is carried out in a bath. This treatment has a beneficial effect on muscle tone while also improving peripheral and lymphatic circulation. It is used in event of joint pain, after care following accident or operation and improvement of physical condition.
Price: 2 900 Ft
Electric fullbath
Combines the positive effects of the electro energy and the hydrotherapy. The therapy is made in water of different temperatures for painkilling when the disease refers to more joints or parts of the body.
Price: 2 600 Ft
4- cell bath
It is the combination of the electro energy and the hydrotherapy, and is used not on the whole body but only on the limbs. It has a pain-killing effect and improves the circulation.
Price: 2 400 Ft
Contrast bath
It is used changing the warm and cold water for the limbs. The warm water expands the cold water restricts the veins. This process improves the circulation.
Price: 2 400 Ft
Effervescent bath
It is good for treatment of patients, who has heart disease, or suffering from high blood pressure or poor circulation. Vasodilator effect can help on artery problems and varicose veins.
Price: 2 600 Ft
Sarvar saline bath
The salt dissolved in the water is beneficial in case of locomotive disorders, prolonged abdominal pain, chronic treatment of gynecological inflammation.
Price: 3 400 Ft
Subaquean traction bath
As a remedy for spinal pain, this treatment has the effect of stretching the spine. During the process of vertical stretching, a nerve under treatment may be released and swollen discs may also be relocated.
Price: 2 400 Ft